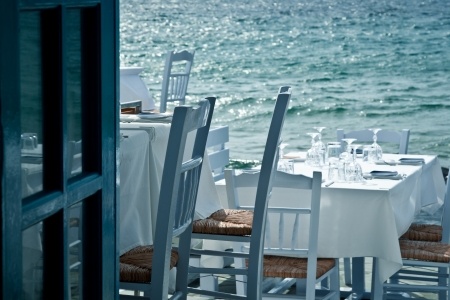 When thinking about how to decorate the outside of your restaurant you want to stick with the branding of your business but you also want to make it functional as well.  There is nothing more appealing to customers than being able to eat on a patio or outside when at a waterfront restaurant.  It actually may make them choose to dine with you, than a competitor that doesn't offer the same features. 
By using umbrellas or awnings it is the perfect solution for keeping your customers in the shade, and cool as well.  By tying in your colors or logos into the décor, it is taking it up to the next level. 
When people go into a restaurant, they expect to be surrounded by the brand.  It may be distracting to have your main colors displayed inside, and once you step onto the patio overlooking the water to have a completely different color palette displayed.  You want to always be immersing your customers into your culture.
Awnings or umbrellas that are branded can also serve as landmarks for your business, and can make you stand out within amongst the chaos of other signs on your street.  You always want to make sure that people, your customers, can find you.  Increased visibility can never be a bad thing.
The cost effectiveness of adding an awning to a building is something that will have a great return on your investment.  Think about adding branded awnings and umbrellas to your restaurant and make yourself stand out today.